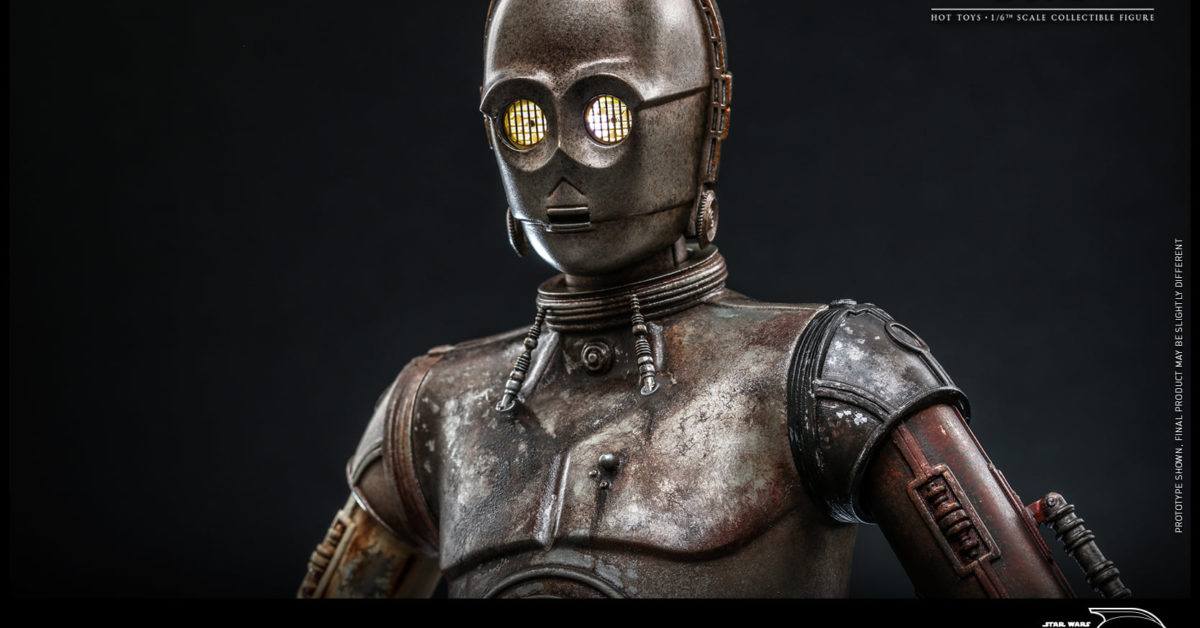 Attack of the C-3PO clones is coming to Hot Toys
C-3PO is once again launched into the Battle of Geonosis as Hot Toys celebrates the 20th anniversary of Star Wars: Attack of the Clones. A whole new series of 1/6th scale figures have been revealed, the latest being R2-D2. Of course, this astromech needs his best droid friend and that means C-3PO has arrived. As Anakin returns to the Lars farm, he once again encounters his protocol droid which is in desperate need of a shiny upgrade. Beautifully crafted in die-cast metal, C-3PO features a weatherproof design with added LED functionality. Threepio will come with interchangeable heads as well as a Battle Droid blaster and head to capture Geonosis' body-swapping scenes. Special Attack of the Clones 20th Anniversary packaging is featured and Star Wars fans can purchase it for $330. It will be scheduled again for Etiquette and Protocol between April and July 2023, and pre-orders are live here.
1 credit
1 credit
"Programmed for etiquette and protocol, "Threepio"™ was built by a young Anakin Skywalker™ and was a constant companion to the astromech droid R2-D2™. In Attack of the Clones, C-3PO left with Anakin and R2-D2 for Geonosis™, where he had a little mishap – accidentally swapping heads with a battle droid. C-3PO discovered he was "utterly beside himself" literally on the wrong side of the first Clone Wars™ battle.
"In celebration of the 20th anniversary of Star Wars: Attack of the Clones, Hot Toys is thrilled to officially present a series of collectibles based on this historic film for fans! The all-new C-3PO collectible figure at the The 1/6 scale is expertly crafted in die-cast material with detailed mechanical design with amazing weathering effects, LED light-up eyes, blaster, interchangeable battle droid head, figure base and packaging Specially crafted commemorative! This human-cyborg relations protocol droid will be a great addition to your collection alongside R2-D2!"
1 credit
1 credit
The 1/6th scale C-3PO™ collectible figure includes:
– Authentic and detailed likeness of C-3PO in Star Wars Episode II: Attack of the Clones
– Meticulously designed mechanical head with LED light function (yellow light, battery operated)
– Beautiful recreation of recycled scrap metal in applied bronze, reddish brown and silver with weathering effects
– About 29 cm in height
– Newly developed body with over 26 points of articulation
– Highly detailed mechanical body design with real waist wires
– Contains die-cast material
– Six (6) pieces of interchangeable mechanical hands including:
– One (1) pair of relaxed hands
– One (1) rifle holding the right hand
– Three (3) gesture hands
– Special packaging design with Star Wars: Attack of the Clones 20th Anniversary logo
Armed:
– One (1) blaster rifle
Accessories:
– One (1) interchangeable Battle Droid head
– Specially designed dessert-themed figure stand with Star Wars logo and character nameplate