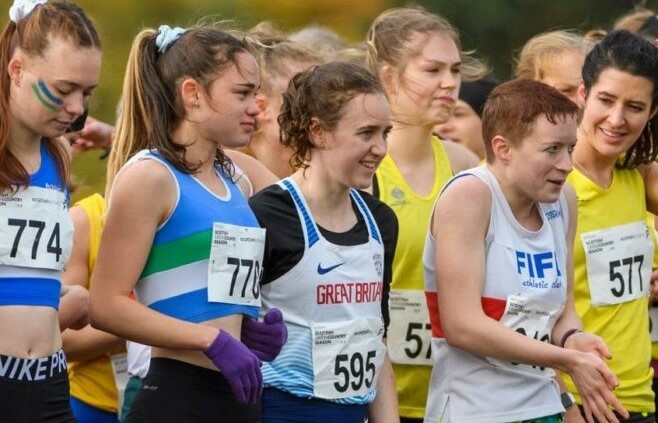 "Our role models help us all raise the bar" – David Ovens
Olympic medalist Laura Muir at the start line in Lanark for the Lindsays Short Course XC (photo by Bobby Gavin)
There is a new edition of PB magazine in the final stages of production/distribution and to be distributed to our members in the next few days.
We asked Scottishathletic chair, David Ovens, to write the "column" for the opening section a few weeks ago and David noted an excellent winter as many events returned post Covid. And, of course, there's so much to look forward to in 2022. .
By David Fours
"At our recent board meeting, we were delighted to endorse a large portion of the Scottish National Indoor Athletics season records.
"These performances, and others, are a good reflection of the accomplishments of our athletes and coaches over the past few months.
"These many all-time Scottish roster impressions are a powerful demonstration that across all disciplines and age groups, from grassroots to elite, our sport is thriving and our coaches and athletes are performing.
"There are many reasons for the scale of success we are seeing in Scotland at the moment.
"We have an incredibly strong foundation with a club structure second to none, a large pool of experienced and committed coaches and a network of volunteers across our clubs, officials, leagues, schools and communities who work tirelessly to support our sport.
"But, increasingly in Scotland, we are benefiting from incredible role models who have tasted success at the highest level and yet will mingle with our grassroots and young athletes, inspiring them to be the best they can be and to think they too can do it. stand on the podium at the Olympic or Paralympic Games.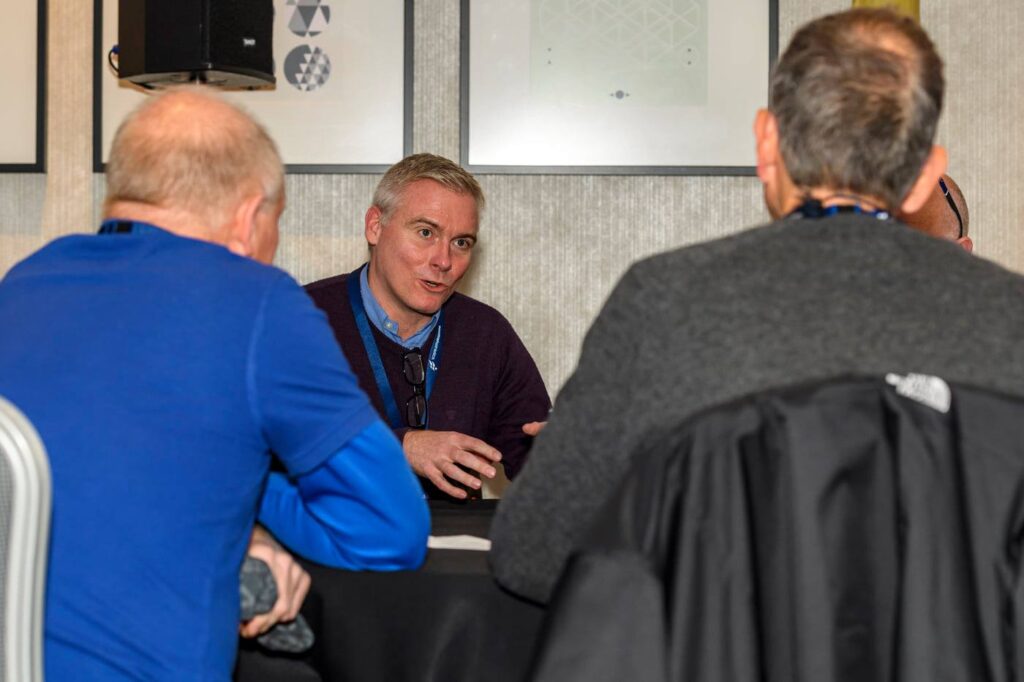 David Ovens chats with club reps at our club conference in October (photo by Bobby Gavin)
'Anything Laura Muir, Jake Wightman and Andy Butchart mix with our top club racers at Lanark, or Owen Miller by presenting awards to young athletes at Dunfermline, our developing athletes have role models they can look up to and relate to who are truly the best in the world.
"These athletes and their coaches know what it takes to be successful and that knowledge and experience is recycled within our athletics ecosystem."
"In recent years, one of our most inspiring athletes has been Chris O'Harewho announced his retirement as a professional athlete earlier this year.
"Chris has been an outstanding ambassador for athletics in Scotland and although I am sad to see him retire, it is worth reflecting on his great career. Chris has represented Scotland at two Commonwealth Games and has Olympic summer at Rio 2016.
'Chris memorably won silver in the 3000m at the European Athletics Indoor Championships in Glasgow in 2019 and won two more European bronze medals in addition to several British medals – and remarkably he ran less of 4 minutes for the mile 25 times, holding the Scottish record Until very recently.
'It was duly taken from him by the first Jake Wightman then by Olympic bronze medalist, Josh Kerr. All three are, of course, AC Edinburgh team-mates.
"We wish Chris and his family all the best for the future and thank him for the huge contribution he has made to athletics in Scotland.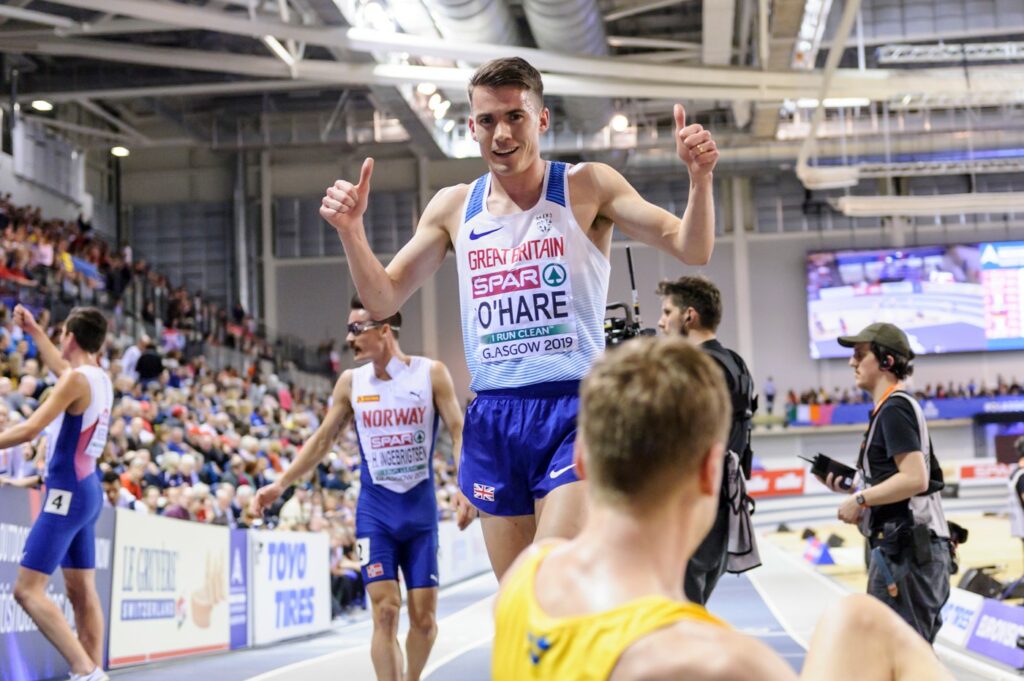 Chris O'Hare won silver at Glasgow 2019 in the men's 3000m (photo by Bobby Gavin)
"As the indoor season drew to a close, we were delighted to see a strong Scottish contingent competing for GB and NI at the World Indoor Championships in Belgrade at the end of March.
'Congratulation to Jenny Selman, Erin Wallace, Adam Thomas, Guy Learmonth and Neil Gourley for their selection, ending a great indoor season for each of them.
"I'm sure it was an exciting and rewarding experience for each of them and their coaches.
"Looking forward to summer, there are plenty of reasons to be optimistic. We have the Commonwealth Games in Birmingham, wedged between Worlds and Europeans, where our elite athletes can hopefully shine and win a handful of medals.
"But for most of us whose aspirations are to compete for our clubs, beat a PB or just compete to complete an event, then the national schedule of league matches, open meetings, regional and national competitions is something that we all look forward to.
"We hope the summer brings as much success to Scottish athletes and their coaches as we have experienced over this period."wonderful winter!'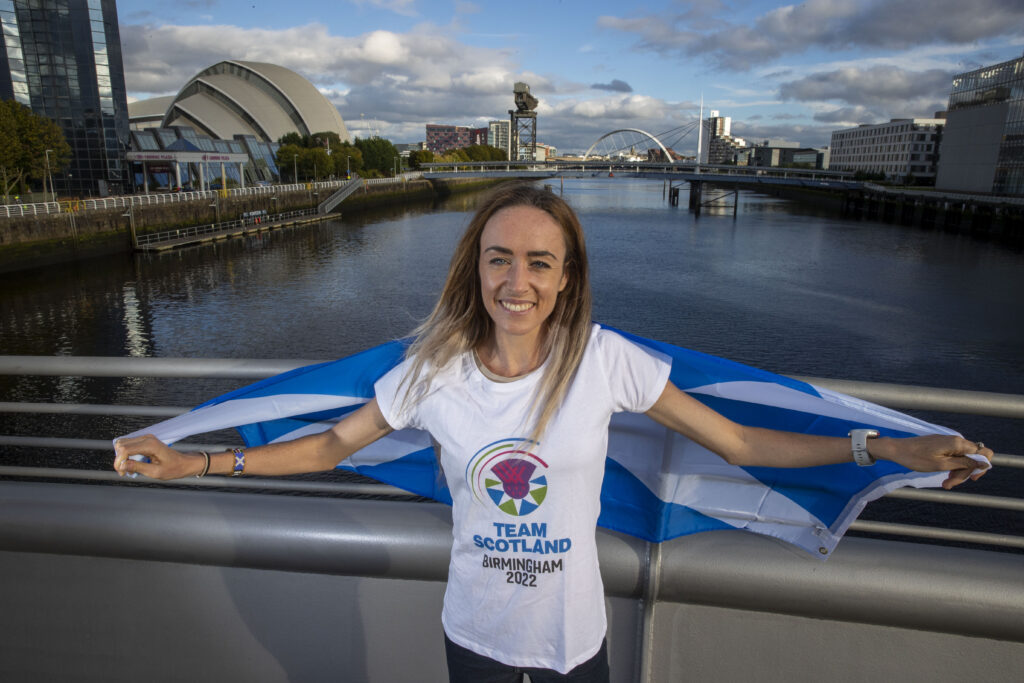 Eilish McColgan is one of six Scots shortlisted for Scotland's Commonwealth team in Birmingham (photo by Jeff Holmes)
+++
Keywords:
Birmingham 2022, David Ovens, BP