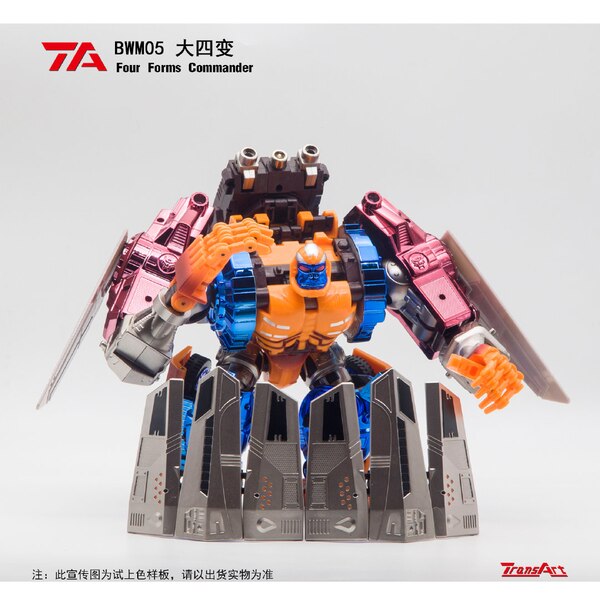 TransArt Toys BWM05 Four Forms Order Images and Color Details
As previously stated, Just in are color images from the TransArt Toys BWM05 project which now bears the name "Four Forms Commander". Their unofficial Beast Wars TransMetal 2 Optimus Primal remake is shown in full color with shiny vacuum metal just like the original.
The BWM05 is 24cm / 9.5inch in robot mode and features improved articulation, better articulations with metal gears, die-cast feet, LED lights, rubber tires, 3 different robot faces, 2 different beast faces, an accessory rack and no missiles. The figure is expected to ship in April 2022. Read on to see the translated update and images below.
Pre-order the TransArt Toys BWM05 Four Forms Order now for shipping in April 2022 from our sponsors TFSource
No. BWM05, proportion of old toys and transformers, the height of robot mode is 24cm. Compared to the four small variants, the joints are redesigned and alloy gears are used; the mobility of the arm is increased, and the elbow can be moved horizontally, and the elbow bends more than 90 degrees; the projectile ejection is canceled, and the barrel link button is changed to eject; the turret rotation is increased. Gear, the front part increased the light effect; robot and animal shaped sizes both have added flex joints, which are more harmonious with small proportions; the footrests are replaced by alloy parts to increase standing stability; electroplating is more exquisite and durable, and the painting is more refined and increased Large metal painting area; more restored head sculptures, with 3 robot-shaped faces and 2 animal-shaped faces; 2 baseplates are included and a more stable tripod has been redesigned (in production). It should be shipped around the end of November.