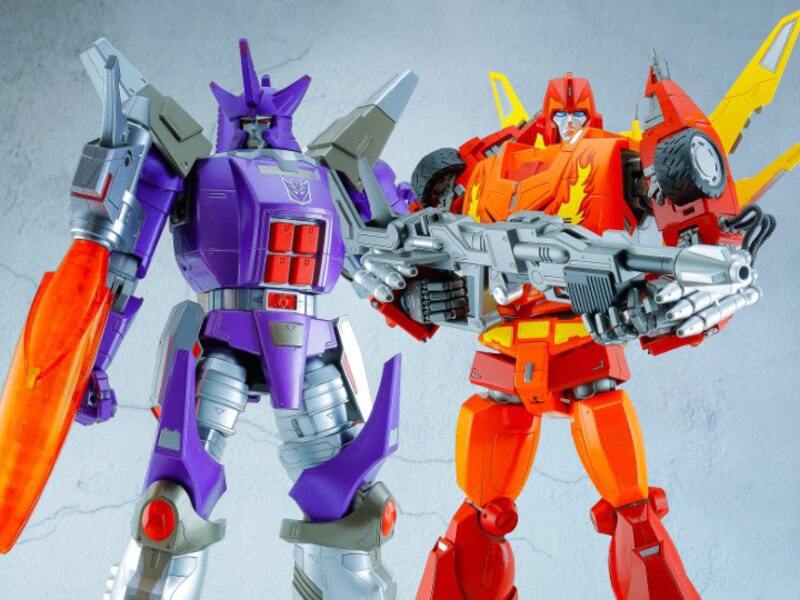 Tsuyoshi Nonaka X Action Toys Transformers Pictures Rodimus Prime & Galvatron
Following the ACGHK 2021 previews, Action Toys has released new images and details for its announced Tsuyoshi Nonaka X Action Toys Transformers Ultimetal S Galvatron and Rodimus Prime/Hot Rod figures.
These figures do not transform, but while they look like UM-01 Optimus Prime and UM-02 Megatron, the 17-inch-tall figures are loaded with premium features like super detailed, die-cast pressure, electronic and removable. parts of the body.
Read on to see the official translated update from Action Toys as well as new images of the Ultimetal S Galvatron and Rodimus Prime/Hot Rod figures. You can pre-order them now to ship in summer 2022 from our sponsors at the following link: BigBadToyStore
Transformers Series Tsuyoshi Nonaka X Action Toys!
I believe all toy lovers will know the name of Master Tsuyoshi Nonaka. He is best known for designing the Super Sentai series and the brilliant "SSSS.DYNAZENON" in recent years. But what does Master Nonaka have to do with "Transformers"? And why isn't the product launch about the invincible Optimus Prime and Megatron, but Rodimus Prime and Galvatron? In fact, there is a reason for this.
In 1986, the third season of the "Transformers" animation "2010" was released in Japan. Since the artwork was owned by Hasbro US, little information was available for publication in children's magazines. Therefore, "TV Magazine" commissioned Studio OX to recreate the artwork. The head of illustration at the time was Mr. Nonaka, who was still studying at the Tokyo School of Design. Nonaka's unique style, which was drastically different from the original animation, was widely acclaimed at the time and was even known as the finest Rodimus Prime.
Today, over 30 years later, we have invited Master Nonaka to reinterpret the Studio OX version of "Transformers". The particularity of this product is that the parts are replaceable in order to represent the different figures of "Hotrod" and "Rodimus Prime". Plus, it's also made of a combination of die-casting and plastic, resulting in a heavy texture that Transformers fans love.
UltimetalS Rodivan Rodimus Prime
Material: Alloy, ABS, PVC
Product size: about 30cm in height
Contents: Lodi Text, Autobot Heart x 2, Pistol x 2, Fire Staff Head, Fire Staff Accessories
and platform
Suggested retail price: HKD 1,580
Expected release date: Q2 2022
© 2021 Hasbro
Galvatron UltimetalS
Material: Alloy, ABS, PVC
Product size: about 30cm in height
Contents: Gweilong body, Autobot heart necklace, laser cannon (LED light), pistol and platform
Suggested retail price: HKD 1,580
Expected release date: Q2 2022
© 2021 Hasbro