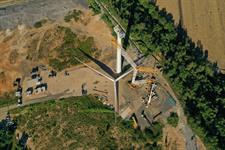 Turbine maker WEG to supply 4.2 MW models to new wind farm in Brazil
The turbine manufacturer WEG will supply 72 wind turbines to CGT Eletrosul for a new wind farm in southern Brazil.
CGT, a subsidiary of state-owned electricity company Eletrobras, said it planned to invest BRL 2.1 billion ($415 million) in the 302MW Coxilha Negra Coxilha Negra (302MW) DownSantana do Livramento, State of Rio Grande do Sul, Brazil, Central and South America Click to see full details project.
The wind farm is expected to be located in the town of Sant'Ana do Livramento in Rio Grande do Sul, Brazil's southernmost state.
Deliveries of the 4.2 MW turbines will begin in 2023 and continue into 2024, WEG said in a statement to the Brazilian stock exchange.
WEG will also transport, assemble and commission the turbines and provide operation and maintenance (O&M) services.
Construction work is expected to begin by mid-2022, while the wind farm is expected to begin commercial operations by the end of 2024, selling its electricity on the open market.
The project will increase the company's wind power capacity to approximately 440 MW. The company also operates the 138 MW Cerro Chato complex, adjacent to the Coxilha Negra project site.
WEG previously supplied 43 units of its 4.2 MW turbine to Alianca Energia under an agreement signed in January 2020. It was also to assemble, commission and provide O&M services for the turbines.